Marshalls Regional Award Winning 'Best Patio Transformation over 35m2 2013'
We designed this patio for a couple with 2 young children. It was to replace a rather unsafe, slippy and unsightly decked area across the rear of their house.  We worked with the clients to establish their needs for their new patio, discussing various issues such as size, shape and material preference.
We built the patio to echo the contour of the bay window, opening the space up and giving continuity of design.
We laid the patio using Marshalls Fairstone Sawn in Golden Sand with a detail edging of Fairstone Lineal Sawn in Caramel Cream; this offered a different subtle change in colour and material.  It was finished neatly with Fairstone Sawn Walling to perfectly separate the change in level between garden and patio.
The focal point, when viewed from the house, was the inset pattern leading from the bay to the steps giving access to the garden.  We finished this interesting project by re-turfing the lawn.
Marshalls 'Highly Commended' award for 'Best Patio Transformation over 35m2'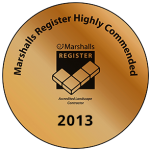 Once again we are proud to say we won the regional Marshalls award for 'Best Patio Transformation over 35m2' We also then went on to land the Highly Commended prize at the Marshalls National event!
Following on from our success of winning the regional awards, we were then short listed from all the other winners across the UK,
We were extremely proud to accept this award, our highest accolade since Brockstone was founded in 1999. In fact we are the only company from Merseyside to have achieved this award.
This patio has also featured in the Marshalls brochure for the past 2 years, with 1 million copies going out nationwide plus downloadable versions; it is a great achievement and a credit to our team.