Marshalls Regional Award Winning 'Best Patio Transformation over 75m2 2015'
We started with a blank canvas on this site as it was a new build property. The client wanted something impressive and individual that would really set the house off. We were given free rein to do what we wanted…..within reason!
Rather than just laying an ever increasing circle pattern that has been done many times before, we wanted to create something individual and tailored to the space we had.
Everything revolved around the circle we laid central to the gateway. We linked that up from the drive entrance by starting the curve/laying pattern with a band of Light block, this then joined the circle, then flowed around to the front door, the idea of this was to 'invite' you in…….leading your eye, and your feet, to the door. When you reach the door, you are greeted by a bespoke Granite Eclipse step, each piece was individually cut by us on site, on all edges, and it creates the perfect step that works in harmony with the rest of the driveway theme. With the addition of lighting, this driveway is both just as stunning at night, as it is in the day.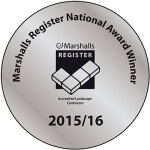 The products we used here were Argent Graphite & Light, Fairstone Granite Eclipse Graphite and Drivesett Kerb Pennant Grey and we were delighted to scoop 'Best Driveway Transformation Over 70m2' for this unique driveway! It didn't stop there….we are proud and honored to say we secured a National Award in this category at the prestigious event in Leeds, where we were presented the trophy by the Liverpool Legend Kevin Keegan, making us the only Marshalls Registered company in Liverpool to have ever won this accolade, topping off what was a fantastic year for Brockstone.